Military Products

Industrial Opportunities Inc. is a supplier of numerous military products to a network of prime vendors. We provide Tactical Sewing/Mil-Spec Sewing services to a wide network of military subcontractors. Our lean manufacturing model allows IOI to produce high quality components while adhering to strict military specifications. By providing high quality Contract Sewing services and on time delivery, IOI will meet or exceed your requirements for your Tactical products which require contract cutting and sewing.
View Military Products Photo Gallery
IOI areas of commercial sewing and contract assembly expertise in manufacturing Military Products
Ammo Pouch
First Aid Bags and Pouches
Tourniquet
Pistol Magazine Pouch
Rifle Pouch
Helmet Liner and Cover
Rifle and Helmet Scope Bags
EMS & Rescue Squad Litter
"IOI is currently producing tactical military products, or has produced, over 80 different NSN items to military specifications on behalf of prime vendors."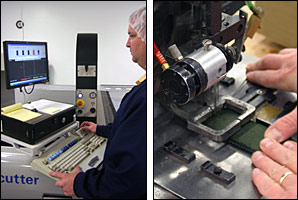 Our contract sewing fabric parts are cut by a computer controlled Gerber system and sewn on programmable machines where possible.
Our Gerber computerized cutting machine and software is consistently accurate after thousands of cutting cycles. This accuracy minimizes fabric loss and optimizes fabric yield giving you higher quality products and more products per fabric length. The high speed of our computerized contract cutting systems provide faster turnaround on orders and superior quality control. And with the entire contract cutting and sewing service provided in-house, IOI is a one vendor, single source solution for your contract cutting and sewing needs. Manual sewing is performed with great care under our Quality Control system to ensure complete satisfaction.
IOI tactical military products are made according to the Berry Amendment, USA raw materials.
Our mil-spec sewing design and development team can work with your technical data package or prototype to analyze the labor involved for a quote on your product. Let us know your quantity needs for non-woven, woven and/or knit sewn products and we can tailor a quote specifically for your item.
IOI specializes as sewing contractors for light weight to Class 7 health care, law enforcement and military products. We sew products such as ballistic vests, radio pouches, first aid kits, cargo lifting straps, high visibility apparel, elastic products and medical grade items.
If you need a custom design, we will work with you to create a protoype of your product and can manufacture your contract sewing project in natural and synthetic materials.
Please complete our contact form for more information on our contract sewing capabilities for military products.
A staff member will contact you within 24 hours to discuss your product needs.
News
IOI Corporate Video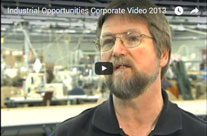 Contact IOI
© 2011 - 2023 · Industrial Opportunities, Inc.