Product Design and Development

Do you have a new product to bring to market and need a reliable partner for the development cycle?
IOI's Design and Development Team will work with you every step of the way from inception to final product delivery.
Getting Started
Whomever you decide to work with for your product development, be sure to have them work with you on a Non-Disclosure Agreement to protect your rights to your product.
IOI will first analyze your product needs to be sure that our manufacturing process provides all production tasks required for your new product. If we are not a good fit, we will tell you up front and also do what we can to provide suggestions for a development solution.
IOI will assign a Design Team member to work with you one-on-one. We believe that personal customer service is a key factor in the entire development cycle.
Once all documents have been processed, the design and development cycle begins.
A project budget estimate and payment terms agreement will be created and provided to you for your review and approval.
Design and Development Project is initially $25.00 - $85.00 per hour depending upon time, sourcing of materials, etc. to complete the product.
Initial Product Drawings and Schematics
IOI can work from your CAD files. This will insure accuracy in the product design.
Once all drawings are completed, a materials list and production schedule will be created for review and approval.
In some cases a prototype model may be created for initial review. Please ask your IOI Design Team about this for more information.
Production, Assembly, Packaging
Initial production quantities, packaging specifics and delivery dates will be produced for each production cycle.
IOI Quality Systems will overview the entire production process.
IOI Primary Markets
Military
Medical
Elastic Products
Specialty Products
IOI has significant experience in the Product Design and Development Process. When you choose to work with IOI to develop your new product, you can be assured that every IOI staff member is dedicated to providing the best possible quality product and the best possible Customer Service.
We look forward to working with you!
To connect with the IOI Design and Development Team, complete our contact form and someone will be in touch with you shortly.
News
IOI Corporate Video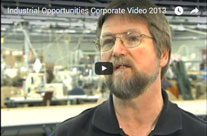 Contact IOI
© 2011 - 2023 · Industrial Opportunities, Inc.