About Us

Company Profile
A growing, non-profit organization serving adults with disabilities from Cherokee, Clay and Graham Counties.
Our Mission
We believe that individuals have a right to economic opportunity and personal development. The Board of Directors and staff actively incorporate the concept that through meaningful, satisfying work, people are able to live more independently, successfully and productively.
We believe that every individual has a right to respect, equal opportunity and gainful employment.
Our quality statement reflects the general attitude of our staff, employees and clients towards achieving the highest level of customer satisfaction - our future depends on it!

Our Quality Policy
Implement customer and regulatory requirements
Offer opportunities for adults with disabilities
Improve quality and maintain effective operations
News
IOI Corporate Video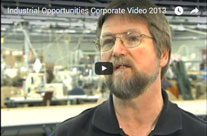 Contact IOI
© 2011 - 2023 · Industrial Opportunities, Inc.