Specialty Products

If you are in need of a business partner to develop your Specialty Products, IOI may be your Solution!
Our design team can confidentially review your product specifications, give you suggestions and solutions for developing your product, provide production cost estimates and create a fulfillment schedule plan.
"The first step in your successful Specialty Product cycle is to get connected with IOI."
Whether you have an established product which has been manufactured in the past or have a new product which needs development from the "ground up", IOI can assist you with design, manufacturing, contract packaging and shipping services.
Types of Specialty Products manufactured and/or assembled/packaged at IOI include:
Specialty Medical Products
Hunting, Competitive Sports, Hiking and Outdoor Recreation products
Webbing and strapping for numerous applications
Pouches, Storage Bags, Back packs
Fishing products
Contract sewing products
Specialty apparel such as Belts, Suspenders
Small parts assembly
What can IOI create for your business?
To contact IOI about your Specialty Product please complete our contact form. An IOI staff member will contact you within 24 hours.
News
IOI Corporate Video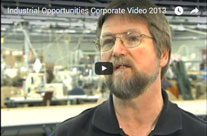 Contact IOI
© 2011 - 2023 · Industrial Opportunities, Inc.