Staff
Industrial Opportunities, Inc. is a non-profit corporation governed by a board of directors. The board meets quarterly and receives interim reports from the president. The President has been given authority to manage the day-to-day operations by the board.
Officers
Matt Rogers
Chairman
Retired School Principal
Hayesville, NC
Randy Wiggins
Vice Chairman
Cherokee County Manager
Murphy, NC
Tom O'Brien
President
Industrial Opportunities, Inc.
Andrews, NC
Roger Holloway
COO/CFO
Industrial Opportunities, Inc.
Andrews, NC
Shannin West
Secretary
HR Manager
Industrial Opportunities, Inc.
Andrews, NC
---
Board of Directors
IOI recognizes the need to have representation on its governing body from a broad cross-section of the community, representing various community interests. This is taken into consideration when recruiting new members for the Board of Directors.
Beverly Allen
Plant Manager, MGM Brakes
Hayesville, NC
Greg Boehm
Plant Manager, Team Industries
Murphy, NC
Howard Brown
C.R. Brown Enterprise
Andrews, NC
Rick Davis
Retired School Superintendent
Robbinsville, NC
Sherry Robertson
CPA
Hayesville, NC
Bill Vespasian
Tri-County Community College
Murphy, NC
Paul Worley
Business Outreach Svs – TCCC
Murphy, NC
If you would like to Contact our Board of Directors please call (828) 321-4754 or complete our Contact Form.
---
Staff

Tom O'Brien, President/CEO
President/CEO operates and manages the total programs of operations; this includes operating a manufacturing business to provide work and appropriate conditions to prepare clients with disabilities, disadvantaged or displaced workers for employment or vocational placement. Tom has been with IOI since 1974. He has a BS/BA degree in sociology and has been President of IOI since 1980. Tom has extensive knowledge and experience in developing budgets and management. He has an extensive repertoire with community leaders, government officials and other similar non-profits organizations. He has served on the Economic Development Board of Cherokee County since 1999 as chairman. He has been the Murphy Medical Center Treasurer since 1986. MARC Chairman-2016-2018.

Roger Holloway, Chief Operating Officer/Chief Financial Officer (COO/CFO)
COO/CFO is responsible for Financial Statements, budgets, and all banking activity. Roger has been employed with IOI since 2005, but has over 25 years of manufacturing experience acquired from Emerson Electric, Stanley Furniture and CR Brown Enterprises. He also has 3 years of additional non-profit government experience as Cherokee County Finance Officer. Most positions have been in his strength of accounting and finance, but he has held other positions such as Operations Manager, Superintendent and Plant Manager. Roger's experience has been very valuable in the analysis of product costing and the degree of detail of analyzing situations has been most beneficial to the direction and goals of the future growth of IOI. He earned a BSBA from Western Carolina University in 1980 concentrating in Accounting and Finance.

Shannin West, Human Resources Manager/Safety Director
Shannin has been with IOI since 2002. Prior to employment with IOI, Shannin worked at District Memorial Hospital for 12 years as the business office coordinator. She graduated from Mars Hill College in 1989 with a BS in mathematics and she is also certified in secondary education. Shannin plans and carries out policies relating to phases of personnel activity. Recruits, interviews, and selects employees to fill vacant positions. Relieves President of administrative details and office management functions. Assists with Board of Director's functions and public relations.

Jim Maennle, Operations Manager
The Operations Manager oversees all aspects of the manufacturing division. While ensuring production schedules are met, he provides technical training to adults with disabilities, supervisors, & IOI employees in a production setting. Jim has been with IOI since 1992. He began as a job coach in the North Carolina Vocational Rehabilitation Program at IOI. Jim worked directly with adults with disabilities on job training both at IOI and at a competitive employment site. His main job responsibility was job training and job placement. He has been acting as project manager of the Government Contract Division since 1999.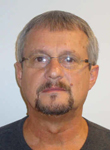 Eddie Kephart, Quality Manager
Quality Manager is responsible for maintaining the Commercial Sewing/Production Quality Management system. Eddie has been with IOI since 2012. He began as a Quality Inspector and later was promoted to the Quality Manager. With over twenty five years manufacturing experience, work history includes initial sample inspection coordinator, experience in engineering test lab, & tool and die repair.

Chris West, Maintenance Manager
Maintenance Manager is responsible for overall maintenance of facility and machinery. Chris has been with IOI since 2003. Prior to being promoted to Maintenance Manger, Chris was hired as Machine Maintenance Supervisor. He has over 20 years in mechanical and maintenance experience. Chris' responsibilities also include parts inventory, overseeing electrical, heating/cooling units, and calibrations for MPD division. He has attended numerous continuing education training and re-certification workshops throughout his employment at IOI.

Jeanette O'Dell, Special Projects Coordinator/Cutting Manager
Jeanette has been employed since 2003 with IOI. She has over 30 years of valuable manufacturing experience acquired from Owenby's Mfg., Peachtree Indus., Lee Co., and IOI. Jeanette's experience in a variety of positions with each company includes: sewing machine operator, trainer, supervisor, Gerber cutter, and project manager. She earned her Associate Degree in Business Administration from Tri-County College in 2003.

Joe Gibson, Time Study Engineer/Costing Analyst
Time Study Engineer/Costing Analyst is responsible for performing time studies & establishing & reviewing products cost. Joe has a degree in Business Administration - Entrepreneurial from Western Carolina University, Cullowhee, North Carolina. While going to school he also worked as a Special Project Manager at IOI. He was responsible for costing out new lines for military products, Government contracts and for purchasing equipment and setting up and starting the new products. Joe has earlier experience as Plant Manager at VF Jeanswear, Andrews, NC; Resident and Area Engineer, Levi Strauss & Company, Rock Island, TN; and Plant Manager at Washington Manufacturing Company, Milan Shirt Plant.

Lynne Manning, Director of Rehabilitation Services
Director of Rehab Services is responsible for the oversight of all of our rehab programs and supervising directly or indirectly 25+ staff. Lynne has been with IOI since 1989. Her previous work history includes working with people with developmental disabilities, mental disabilities and substance abuse in various settings. She has helped IOI achieve and maintain national accreditation through CARF (Commission of Accreditation in Rehabilitation) since 1994. She maintains our state licensure, Medicaid enrollment and monitoring from our Local Management Entity. She has a B.A. in Therapeutic Recreation and a M. Ed in Agency Counseling. She is a Certified Vocational Evaluator and a CARF surveyor.

Dennis Myers, Vocational Evaluator/Pre-ETS Coordinator
Vocational Evaluator/Work Adjustment Coordinator oversees the Vocational Rehabilitation sponsored Evaluation and Work Adjustment Programs. This includes in-house training, job placement and job coaching services. Dennis has been with IOI since 1990. He has a BS degree in mathematics. Since being at IOI, Dennis has been, first a job coach and now oversees the Vocational Rehabilitation Program. Dennis has worked on preparing quotes for potential contract work and has participated in Elastic Products marketing activities on an as needed basis. He has also represented IOI on several community and regional agency boards, including county transportation advisory boards, Workforce Development Board, Regional Youth Council and the Disability Employment Awareness Committee.
Our goal is "People Working for a Better Future with quality products, services and customer satisfaction."
News
IOI Corporate Video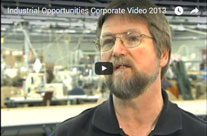 Contact IOI
© 2011 - 2023 · Industrial Opportunities, Inc.