Medical Products

"The IOI Medical Products Division operates within a controlled environment." IOI produces many medical products under private label that are destined for hospital usage after sterilization. Working in conjunction with the largest provider of custom medical drapes in the U.S., IOI is proud to provide our customer, Haywood Vocational Opportunities (HVO), with high quality products manufactured under strict procedures.
View Medical Products Photo Gallery
Medical Products Division
Accreditations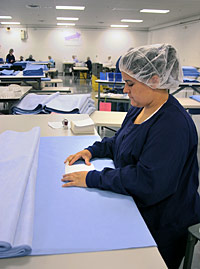 FDA Registered
Contract Manufacturer and Packager
Controlled Work Environment
IOI areas of expertise in manufacturing Custom medical Products
Specialty Drapes
Table Covers
Head Rest
Burn Pads
IOI can accommodate large volumes as well as custom production projects.
Medical device material is cut by a computer controlled Gerber system and sewing can be utilized as part of our specialties offered.
The IOI team can work with a variety of materials and specifications to aid in the development of a new or revised product or device.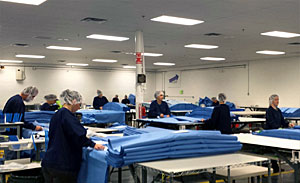 All products that are produced through the IOI Medical Products Division's are processed through our Quality Management System to ensure the production and release of products that provide the highest level of quality and customer satisfaction.
IOI produces woven, nonwoven and knitted medical products in both natural and synthetic fabrics. We specialize in producing custom surgical drapes, table covers, head rests and burn pads. Our medical products are shipped to hospitals and institutional facilities under private label nationwide. Our controlled environment facility and Quality Process produce consistent high quality custom medical products.
Working as a strategic partner and supplier to Haywood Vocational Opportunities (HVO), the largest provider of custom medical drapes in the U.S., IOI has the capability to offer a variety of custom medical drapes and covers for:
Angiography
Arthroscopy
Cardiovascular
C-Section
Cystocopy
Extremity
Head and Neck
Laparoscopy
Minor Extremity
Neurosurgery
Ophthalmic
Orthopedic
Picc Insertion
Plastic & Reconstructive
Shoulder
Urology
Back Table Covers
Instrument Covers
If you have a custom medical drape application not shown above, send your requirements, specifications and quantities to the IOI medical products design team for a comprehensive review of your product application and a quick response to your inquiry.
If you are a medical product developer or inventor of new medical products, the IOI Medical Products team will work with you to develop a prototype and can create an IOI distribution channel strategy for your product.
Please complete our Contact Form for more information on our medical products capabilities.
A staff member will contact you within 24 hours to discuss your product needs.
News
IOI Corporate Video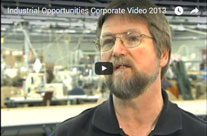 Contact IOI
© 2011 - 2023 · Industrial Opportunities, Inc.